M42 Cobalt Premium Roughing Mills – TiAlN Coated – Coarse Pitch
A TiAlN-coated coarse pitch cobalt roughing mill is a game-changer in the world of machining! This coating brings a slew of advantages, including enhanced wear resistance, longer tool life, and improved machining performance. The coating reduces friction and heat buildup during cutting, allowing for blazing-fast cutting speeds and feeds, resulting in quicker material removal and boosted productivity. Not only that, but this coating also minimizes the need for frequent tool changes, saving valuable time and cutting down on costs. With a TiAlN-coated roughing mill in your tool arsenal, you'll be a machining wizard, churning out top-notch results with ease.
Please use our chart below to select your size.
The ultimate solution for your stainless steel, alloy steel, Nickel alloys, Co-Cr-Mo and cast iron machining needs. These milling cutters are specifically designed for high-performance roughing operations, delivering exceptional results in even the toughest machining applications.
M42 Cobalt material, these roughing mills boast unparalleled toughness, durability, and heat resistance, ensuring they can handle even the most demanding machining tasks with ease.
These roughing mills are ideal for use in a wide range of industries, including automotive, aerospace, and manufacturing, and are suitable for use with a variety of materials, including stainless steel, alloy steel, and cast iron. Their unique design allows them to remove large amounts of material quickly and efficiently, reducing machining time and improving productivity.
Coarse Pitch
Roughing mills has several differences and advantages over using center cut roughing mills;
Coarse pitch cobalt roughing mills have a larger number of teeth and more aggressive helix angle than center cut milling cutters, allowing for faster material removal and reduced heat buildup. They are also made from more durable materials and are often less expensive, leading to longer tool life and increased cost-effectiveness in roughing operations.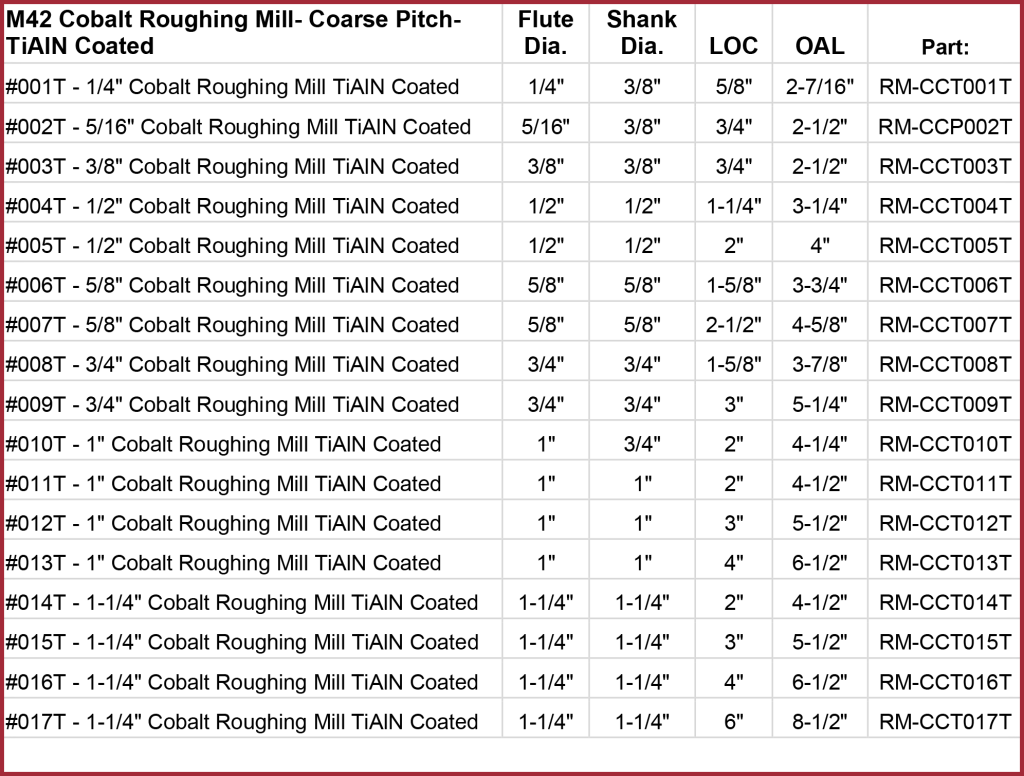 Whether you're looking to rough out a new component or simply want to streamline your machining operations, our M42 Cobalt Premium Roughing Mills are the perfect choice. With their exceptional performance, durability, and versatility, they're sure to become an indispensable tool in your machining arsenal. Upgrade your machining game today with our premium roughing mills!