E50 Auto Magnetic Drill – Professional series. The best of the best.
A fully automatic drilling unit, the E50 Auto maximizes safety, increases tool life, and reduces operator fatigue while providing substantial gains in efficiency. Also equipped with manual reverse gear for tapping, this drill is a must have for any job-site or fabrication shop.
E50 Auto KEY FEATURES:
Cutter capacity
2″
Depth of cut
2″
Twist Drill Capacity
3/4″
Tap Capacity
3/4″
Countersink
1-3/16″
Total Weight
41 lbs
Magnet Size
7-7/8″ x 3-7/8″
Motor
1500W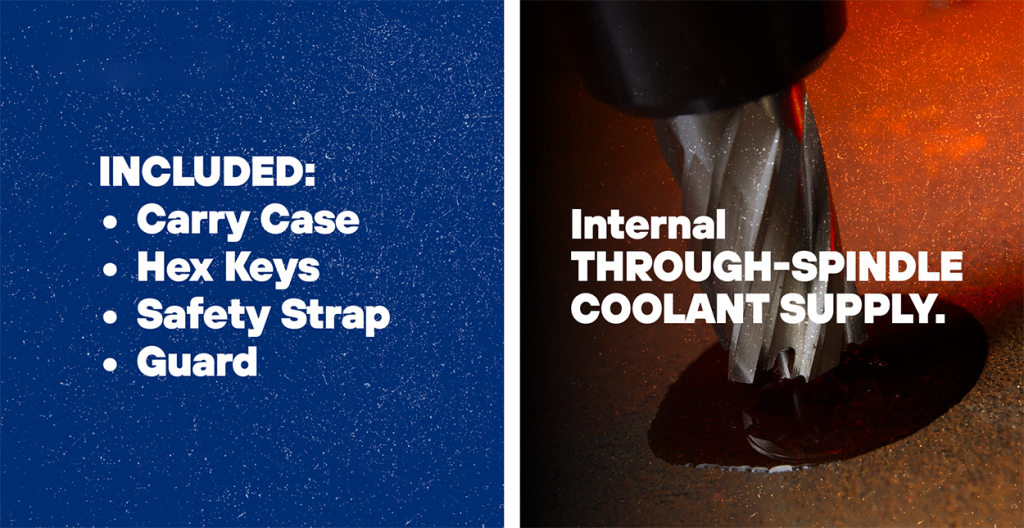 Great for Bridge building and Structural steel. The perfect tool for any general purpose fabrication.
DRILL SMART Equipped:
LED Digital panel to display machine load and ensure safe and efficient working conditions.
Variable Speed 
ELP50 LoPro Specifications:
Cutter Capacity
2″
Depth of Cut
2″
Drill Chuck Capacity
3/4″
Morse Taper
MT2
No Load Speed
100-500 RPM
Motor Specification
110W/1500W
Magnet Adhesion
3000lbs
Length
15-1/2″
Height
23″
Width
10″
Magnet Size
7-7/8″ x 3-7/8″
Weight
41lbs
Motor
120V
Stroke
4-3/16″
Includes: Carrying Case, Hex keys, Safety Strap, and Guard
Questions? 800-350-8665